Making the mouth to heart connection. People with gum disease are almost twice as likely to have coronary artery disease, according to the American Academy of Periodontology (wedmd.com). In fact, one study found that common problems in the mouth, including gum disease, cavities, and missing teeth, predicted heart disease as well as cholesterol levels. So how exactly is oral health linked to heart disease?
Oral Health Linked to Heart Disease > Controversy Remains
Studies of oral health linked to heart disease seem to agree that there is indeed a link between the two. But exactly how gum disease (also periodontal disease or gingivitis) and heart disease (coronary artery disease) connect remains unclear.
Studies have shown a few links.
Both gum disease and heart disease involve inflammation. Levels of C-reactive protein (CRP) increase in people with severe gum disease. CRP levels are used to assess a person's heart attack risk.
The same bacteria have been found in the mouth and in artery plaques. So one theory suggests that these bacteria stick to fatty plaques in the bloodstream, contributing to blockages.
Another theory suggests that as the oral bacteria travel through your body, they trigger inflammation throughout your body, which is a natural defense mechanism. But this could cause blood cells to swell, narrowing arteries and increasing the risk for blood clots.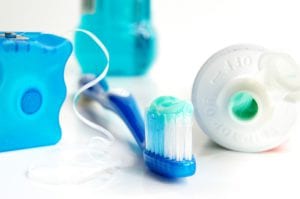 Gum disease and heart disease also share some common risk factors, including:
Poor nutrition
Diabetes
Being male
Cigarette smoking
While controversy remains about how oral health is linked to heart disease, we should heed two eye-opening facts:
People with gum disease are twice as likely to get heart disease.
Cavities, missing teeth and gum disease are common among people with heart disease.
Make Your Personal Link Between Oral and Heart Health a Positive One
Granted, practicing good oral hygiene can't dismiss your risk for heart disease. But it could certainly help decrease it. With proper oral hygiene, you can minimize cavities and swelling in your mouth, where bacteria tend to breed. Make your mouth less inviting to excessive bacteria.
Brush twice daily.
Floss daily.
Visit your dentist every 6 months for a check-up.
Get your teeth cleaned by your dentist regularly.
Contact your dentist if you notice unusual swelling or pain in your mouth.
Also, if you get diagnosed with moderate to severe gum disease and have a known risk factor (smoker, male, poor diet, diabetes), get a medical evaluation done annually.
If you have heart disease and symptoms of gum disease, call your trusted dentist at MyOrthodontist today for a thorough periodontal examination. Or feel free to do more research first and read Periodontal Disease: Get the Facts and Avoid Gum Disease.
Oral Health Linked to Heart Disease Summed Up
Experts agree there seems to be a link between the two.
Both diseases share common bacteria types.
Both diseases involve inflammation, which puts your body naturally into attack mode.
Taking good care of your mouth helps eliminate unwanted bacteria and keep much-needed teeth for healthy eating.
Eating hardy, nutritious foods helps keep your heart and entire body healthier.
So, consider oral health linked to heart disease, and start taking even better care of both your mouth and heart today!
Count on MyOrthodontist Team for Your Dental and Orthodontic Services
---
We Offer Our New Patients the Best Savings